Forming, Storming, Norming and Performing. Four phrases a team goes through as it forms and develops.
In order to successfully complete a project, it is a crucial factor that the team working together can collaborate in the best possible way. It is only then that the team has the potential and opportunity to reach the goals that the organization has set out and that the team can fulfill the purpose of the project and achieve the desired results. In the best case, the team can become a high-performing and efficient one, but for that to be possible, a large amount of responsibility lies on the project manager to develop the team and build a good collaborative environment.

You can't expect a team to be fully productive, to collaborate well or being able to perform at a high level from the beginning when the team members first come together, in most cases it requires both time and hard work. Creating a well-functioning team often takes several months, and a team often goes through certain distinct phases during the time it goes from being a group of individuals to being a close-knit team that works together to achieve mutually set goals.

This is where the Forming, Storming, Norming and Performing comes into play. It's a model created by the American Psychological Researcher Bruce Tuckman, describing the four main phases a team goes through as it forms. When you know these four phases a little better, it becomes easier as a team member to navigate through the development together with your colleagues, and it also becomes easier for the project manager to more quickly develop the team to become more efficient and high-performing.


---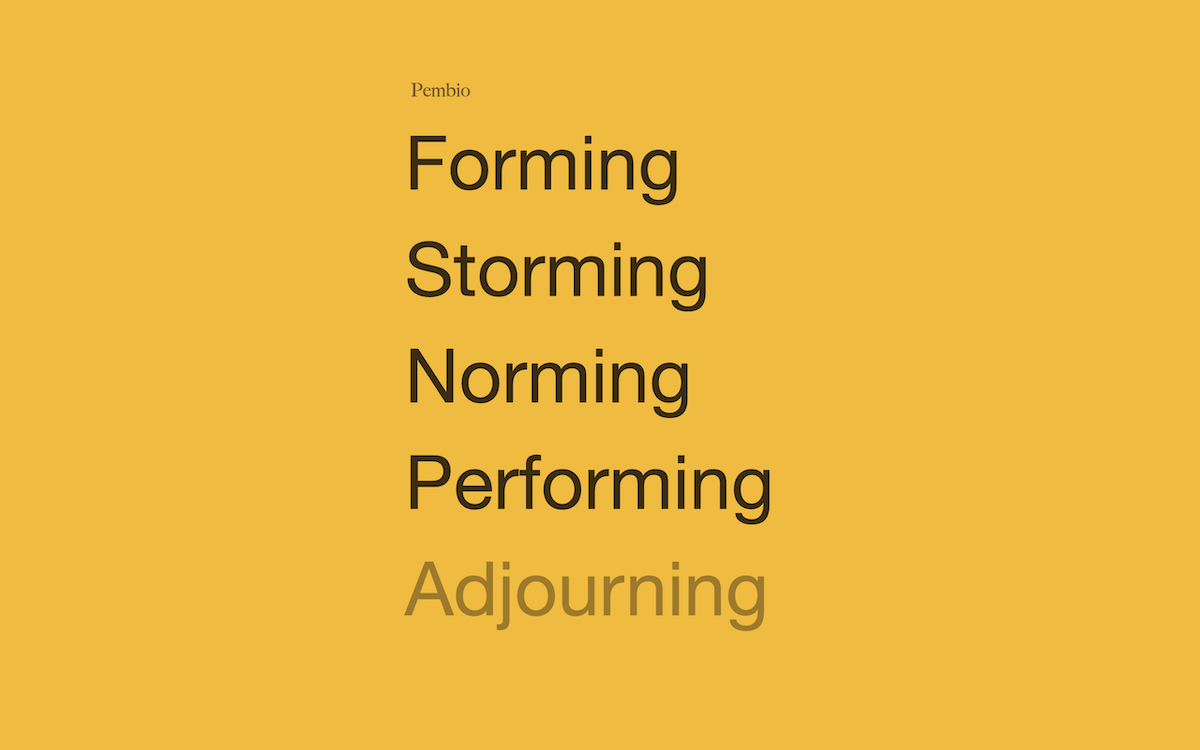 The Forming, Storming, Norming and Performing model
Dr. Tuckman developed the model Forming, Storming, Norming and Performing in 1965 - which are the names of the four phases that a team goes through when it is formed and developed. Bruce Tuckman studied different structures that can build a team, and how a team can achieve efficiency and high results. Five years after Bruce Tuckman formulated the Forming, Storming, Norming and Performing method, he added a fifth phase called Adjourning.

Tuckman's method and description of a team's development of maturity and capabilities explains how different behaviors occur in a team and at what times, as well as how conditions and relationships are established and leadership within the team changes as it develops. Broadly speaking, leadership in a new team starts with a very controlling leadership role, whereupon the leadership changes to having more of a coaching role, then a more participative and consulting role, and at the end of a team's development, the original leader has ended up more in the background where leadership is above all about delegating.

At this point, it is common for the team to develop a successor leader, and the original leader can continue his work by developing a new team. Forming, Storming, Norming and Performing can sometimes be seen as a simplified picture and overview of how it happens when a close-knit work group comes into being, but the model can be particularly helpful and useful when it comes to training employees in group-based work in order to thus ensuring that the group can utilize its full potential. Below follows a closer description of each of the five phases forming, storming, norming, performing and adjourning.
Forming
The group is formed. The group members get to know each other and the social rules are set so that conflicts can be avoided. This phase is characterized by organization and mobilization. Everyone takes their place, routines are nailed down, meeting methods are discussed and information is collected. Everyone needs a good picture of the reality in which the project will be run. What are the conditions?

The individuals gather impressions and treat each other and the group cautiously. The phase often means that everyone is excited, focused and cooperative. The project manager here is constantly present, observing and trying to identify the team's strengths and areas of development.
Storming
The team has been formed and is now prepared to take on the challenges. Here, the project manager's role is to clearly explain which problems are to be solved and in what way he or she expects the group to do it. Some form of brainstorming is good at this stage. The group must be given the chance to feel involved in the process.

Here, the team also begins to know each other well enough that no one is afraid to air their opinions. There may be discussions and controversies about which path is the best. The project manager listens and values all opinions that come up. He or she must get everyone to agree on the project's goals and purpose in order for the continued work to be as efficient as possible. Engagement in the group will be higher if everyone feels involved.
Norming
The norming phase means that everyone is clear on what needs to be done and has landed completely in the project's overall goal. Everyone has the information needed to get started with expected successful results in sight. Now it is also important that the project manager succeeds in conveying the importance of everyone in the team taking responsibility for reaching the goal. The delivery is in focus from now on.
Performing
If the previous steps in the process worked, Tuckerman says that you as a team are prepared to perform. But not everyone makes it that far. If the team members are sufficiently interconnected, competent, goal-oriented and motivated, the project moves into the performing stage with ease. But sometimes it is slow to get here.

A great way to achieve performance within the team is to give members the freedom to make their own decisions and provide the conditions for individuals to be independent. Support them in their work without commanding. People who get the chance to work independently don't need someone to forcefully instruct. They need guidance in order to come to conclusions themselves and make decisions that are in line with the project's goals.

Allow some disobedience. Project members who only do as they are told soon tire and lose motivation.
Adjourning
You've now successfully developed you team from its shaky beginnings to a high-functioning, productive unit. But even the best things must come to an end. The final stage in Tuckman's model is adjourning, which marks the end of a team's existence.

During this stage, team members may feel reluctant to let go of the collaboration and productivity they've worked so hard to achieve. However, it's important for team members to remember that the end of a team's existence doesn't have to mean the end of their relationships with one another.

In fact, many team members may find that they stay in touch long after their team has disbanded and continue to collaborate on future projects. The adjourning stage is a time for reflection and appreciation, as team members look back on all they've accomplished together and say goodbye to the team they've grown to love.
Summary
In the 1960s, psychologist Bruce Tuckman developed the Forming, Storming, Norming and Performing model and later added the fifth and dissolving phase Adjourning. According to Tuckman's model, most teams go through five distinct phases of team development, three that lead forward and prepare the team to perform, and a final short phase where the team separates. The model is particularly suitable for project managers because it can serve as a tool to quickly and efficiently develop their team by adapting their strategy to the phase of development the team is in.
By: Pembio AB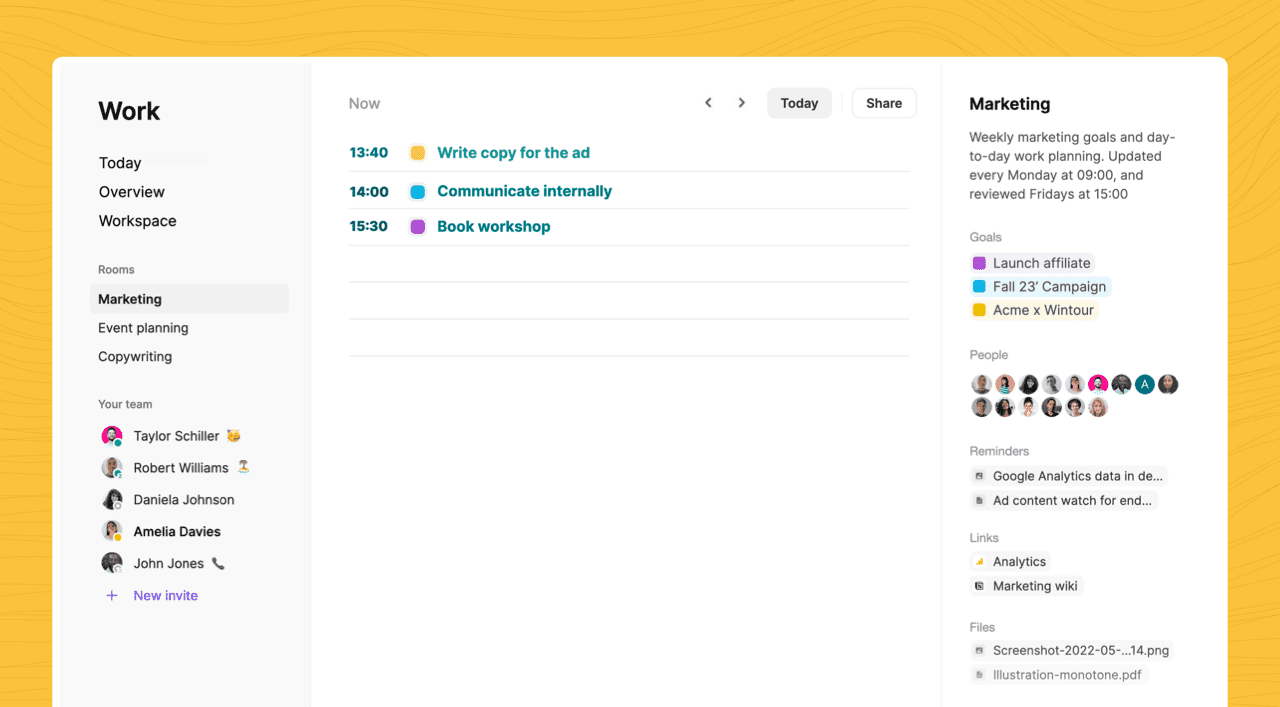 The goal planning app that will skyrocket your productivity
A brand new productivity app - empowering you, or your entire team, to get the most important work done with stunningly simple goal planning.
Get started for free