The best way to set team goals
Today's businesses are goal-driven and analytical - or at least they should be! Setting the correct objectives drives performance and advances the company's long-term strategy.
Team goals demand everyone's participation. The best type of team objectives are those which are co-created and linked with the company's larger, overarching goals.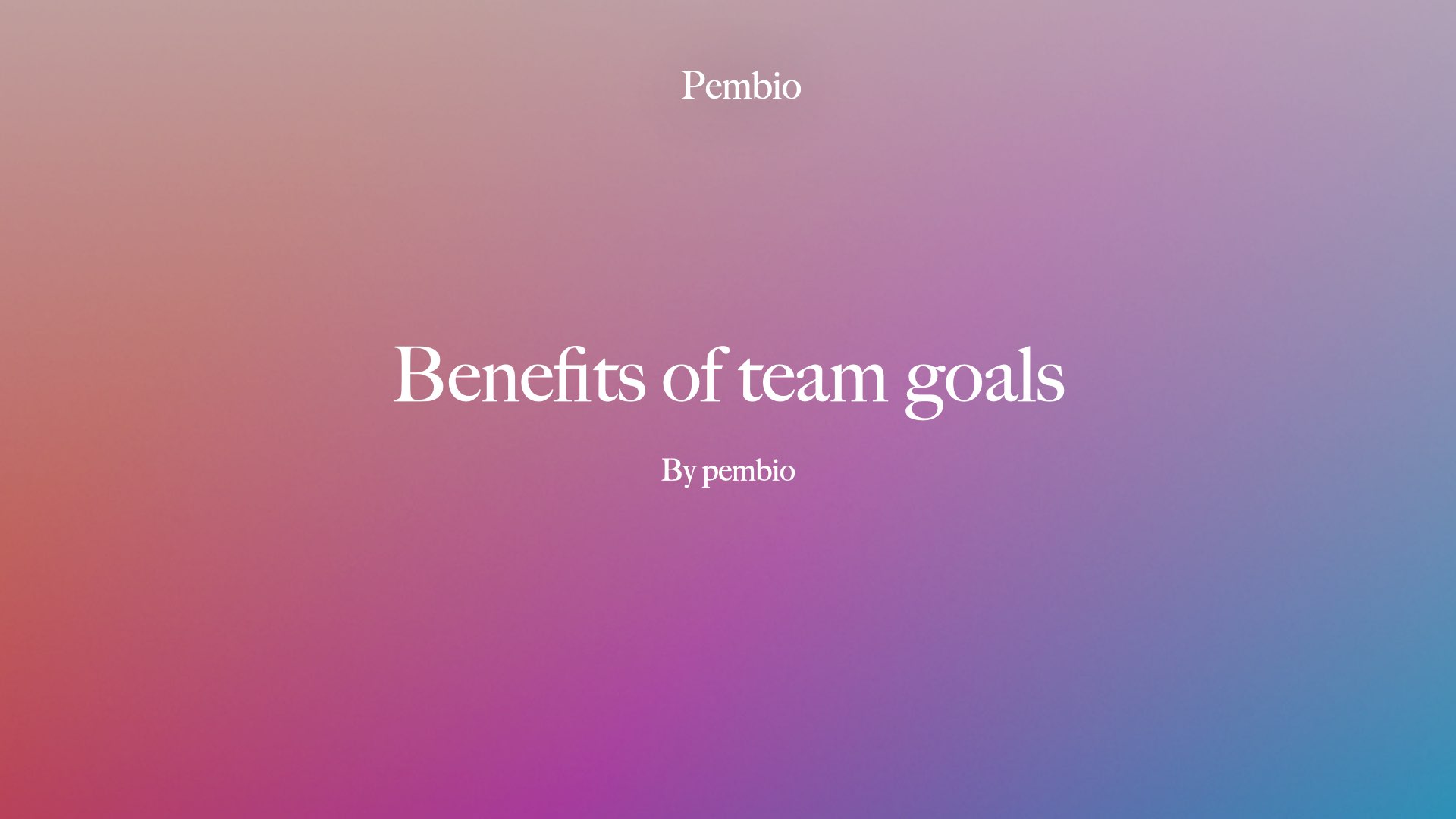 Benefits of team goals
Setting team objectives collectively helps you, your team, and the company, and aligns everyone with the bigger mission and vision.
Team objectives show members how their effort fits within the collective effort.
Team objectives give guidance and spell out clear actions/next steps.
Team objectives foster ownership and responsibility on individual and group level.
Goals foster trust and teamwork.
Team objectives measure individual and collective progress.
Creating team objectives might help you identify unassigned priorities.
Team objectives help assess performance.
Team objectives show the team's organizational impact.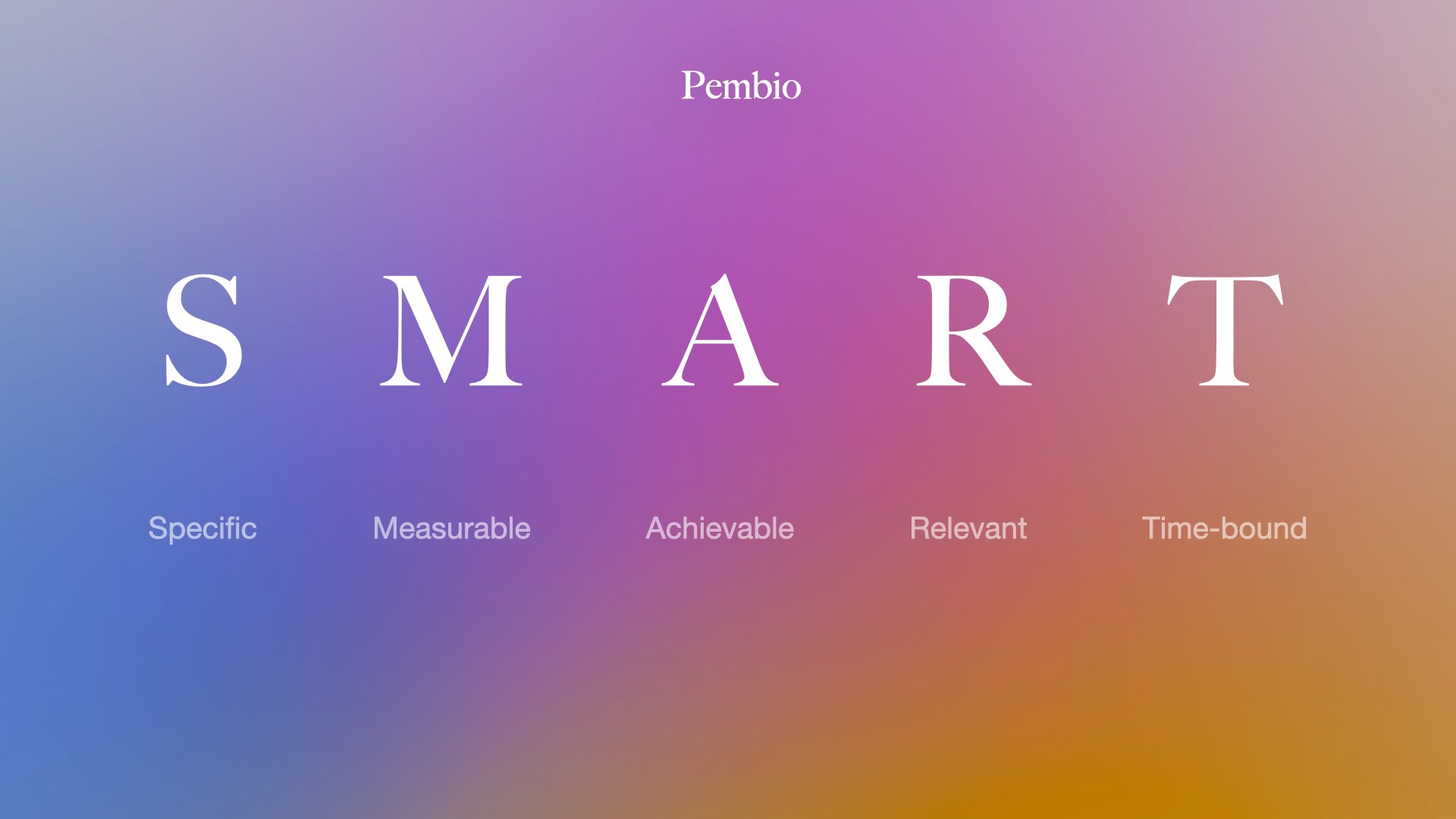 How to set goals: Start SMART
I asked the senior director whose team struggled with internal stakeholder communication what her aim was. She said she didn't want "missed communications to escalate". While this is a very reasonable and desirable aim, it's not SMART or an appropriate team goal.
SMART goals follow these guidelines:
S: Specific. Make the team's objective very clear.
M: Measurable. Find the appropriate measurement(s) to track progress towards the goal.
A: Achievable. Set a challenging but achievable aim.
R: Relevant. The goal should be important to both the group and the team.
T: Time-bound. Set the target date.

Team goal-setting leader
There are additional critical components of team goal-setting in addition to the SMART method.
Align priorities. First, talk with your boss and anchor your goals with the higher-ups. Clarify the organization's team performance requirements. These will guide your team's SMART objectives.
Show your contributions. Don't forget that you're also part of the team, and your efforts to reach the goals are important. When people see your contributions to reaching the goal, your colleagues will know you're helping the team.
Have patience in the goal-setting process. Lead many rounds of team goal feedback and suggestions. Your objectives will improve with each draft.
Build support & get buy-in. Ensure that no team member is left behind. Everyone should feel part of, and dedicated to, the goals and the necessary work. If needed, have one-on-one talks to vent concerns.
How to measure success
The most important part of setting team goals is to know how you'll see if you've reached them. You need to set up a method to assess your efforts and how to hold yourself accountable. When a team doesn't reach a stipulated goal, it's often because they don't have a way to track who did what, and that things fall through the cracks. Here are some of the most valuable ways to measure success:
Figure out how you will track your goals and who will be in charge of what.
Choose a tool that will help you keep track of your team's work and hold people accountable.
Know what data sets you need to track your progress and ensure the right people can see those data.
Set up regular meetings with the team to find out what they think about progress and discuss all problems that need to be addressed.
Produce progress updates. Depending on your goal, you may need to measure progress every day, once a week, once a month, or every three months, etc.. Be ready to circulate the data in the wider organization to ensure all relevant stakeholders and decision-makers are up to date on how things are progressing.



Don't forget to consider what will keep your team members going throughout the process. When you look at how far you've come toward team goals, you can change them if necessary. Make progress clear, demonstrate whether progress is going according to plan, and talk to the team about what's working - and what isn't.
You could have to provide your team members with more assistance and opportunities for growth, or you might have to lobby for more resources and time. It is important to remember to celebrate the progress made toward team objectives with the members of your team when the goals are met.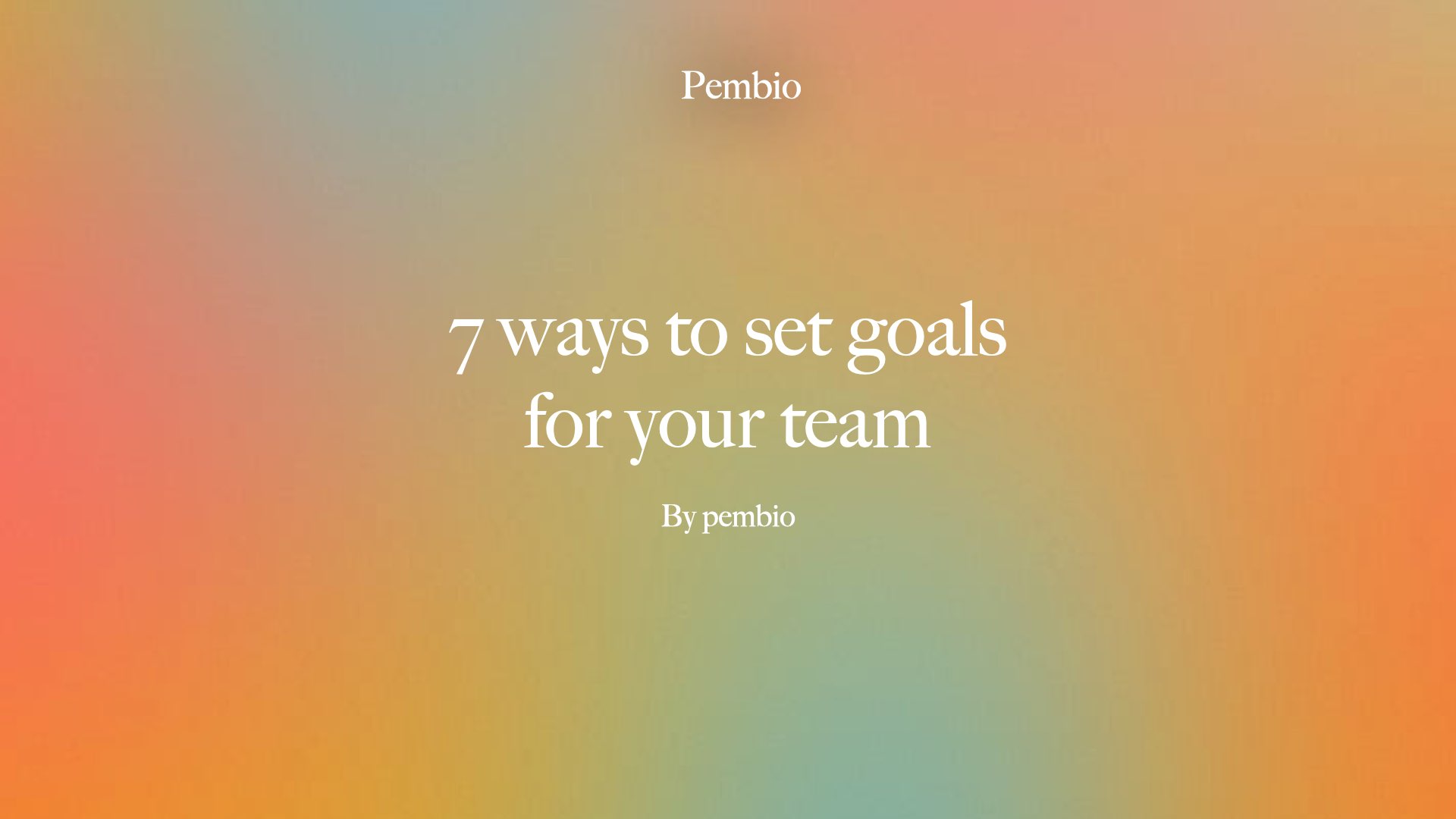 7 Ways to Set Goals for a Team - that work!
1.) Ask what people want to do.
2.) Make sure your team is responsible.
3.) Make objectives public.
4.) Explain how the goals fit into the bigger picture.
5.) Make goals measurable.
6.) Link goals to rewards.
7.) Make a plan of action.

How to make your team's goal-setting more effective via continuous improvement
You will be able to set better goals and improve performance over time if you ask for colleagues' feedback on the goal-setting and work planning strategies you use.
For this to be successful, you will need to establish a culture of continuous improvement in which all employees work together to assess the methodology that has been selected, and provide input on what aspects of the business could be improved - or discarded - to achieve better outcomes.
Transparent, regular discussions between leaders and staff are the best way to foster continual improvement in your approach to goal-setting.
Some examples of aims for the team
Team goals can vary depending on what your company wants to do or what your team needs. Here are some examples of team goals, which can of course be adjusted to fit your specific needs:
Increase efficiency
Many teams seek to increase department productivity and resource utilization. Teams doing labor-intensive activities, including manufacturing and assembly, often have efficiency goals. This can of course be equally relevant to teams and organizations who aren't involved in manufacturing.
Create concepts
Teamwork typically generates better ideas than solo efforts. As a result, many groups intentionally set aside time to brainstorm new ideas on a regular basis. By working together to generate ideas, the team increases the likelihood that issues and challenges in their everyday work will be solved, and this practice also sets the stage for further debate and the development of more specific objectives for the future.
Encourage morale
Some team goals affect firm operations or aims, while others benefit the team. Your team may work to boost morale. Maybe you want to offer weekly events that encourage employee interaction and collaboration. Team members may network, get to know each other, practice communication, and enhance cooperation via community-building events. Because remember, the better people know each other, the stronger bond they will form and the more likely it is that they will collaborate effectively.
By: Johan Flodgren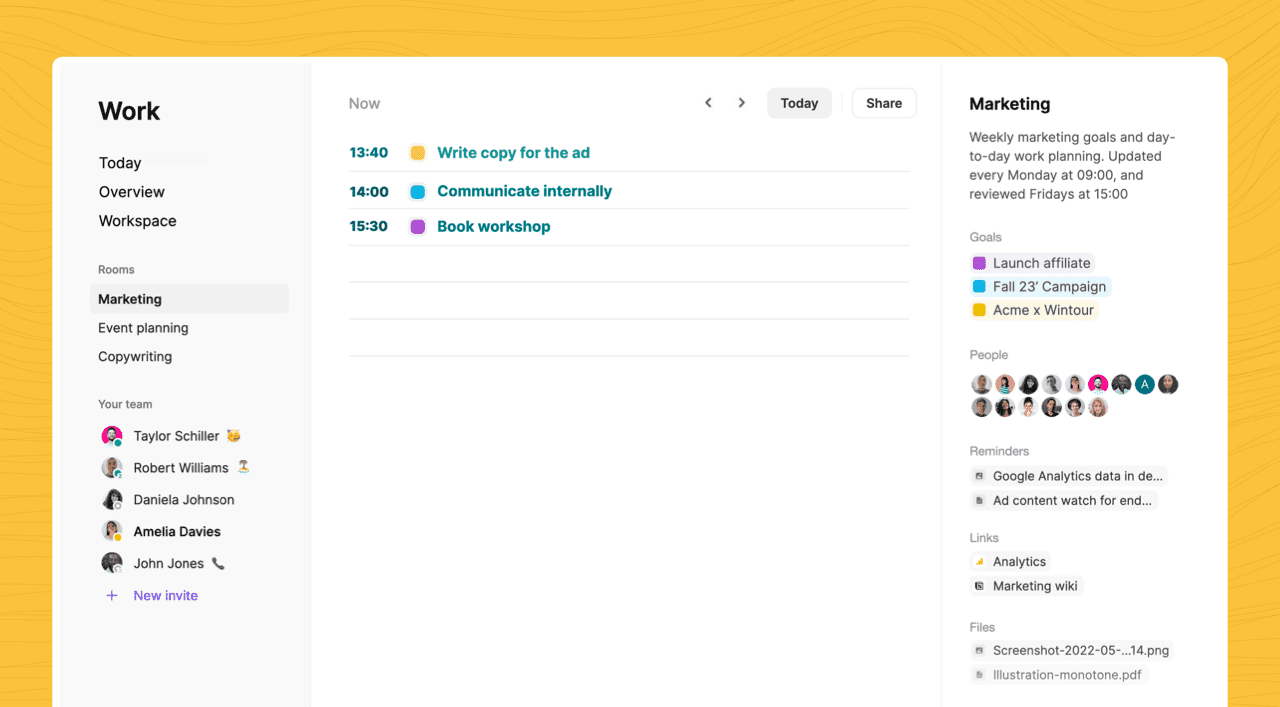 The goal planning app that will skyrocket your productivity
A brand new productivity app - empowering you, or your entire team, to get the most important work done with stunningly simple goal planning.
Get started for free